Comments in theory are great, they enable your visitors to engage not only with you, providing valuable feedback but also with other visitors.  All these comments get indexed by Google too and Google loves a constantly updated site so what's not to love?
The majority of sites that we manage have no need for comments and the only comments that have entered are from the automated bots that scour the internet completing comment fields in the hope to either successfully hack a site using SQL injection or encourage visitors to your site to click links posted on your/your clients site to download malicious content.
That's not good for your brand not to mention your SEO.
Now, when we first take on a site(s) we clean out and then disable comments unless we're asked otherwise.  There are several different ways to delete comments and disable any future comments depending on the requirements of the site.
How to disable all comments with a plugin
We use Disable Comments to not only disable comments but also delete all existing comments in the database.  The plugin makes it quick and easy however once turned on it cannot be overwritten on a page by page or post by post basis, comments are either enabled or disabled. 
Once you have installed and activated the plugin, you can choose the individual post types where comments will be disabled or choose everywhere. You can also disable comments being submitted using the API.   The screen below shows the best settings if you do not want to ever have comments on your site.
You can also use the plugin to delete all the existing comments on your site, click the Delete Comments tab.
Select where you want to delete comments from and click 'Delete Comments'.  
All the comments will be deleted from the database.
How to disable all comments without a plugin
As discussed above Disable Comments disables comments on the entire site and cannot be overridden on a single post or page.  So should the case arise you will need to disable the plugin or re-configure it.  If you want more control you can simply disable comments under 'Discussion Settings' in the WordPress dashboard.  Just uncheck the boxes, especially the "Allow people to submit comments on new posts."
As you can see the setting can be overridden for an individual post.
How to delete all comments without a plugin
If you have existing comments you can manually delete them from the WordPress dashboard, simply click "Comments" select the comments you want to delete and then, under "Bulk Actions" select "Move to Bin".
You will then to select the comments in trash and then under Bulk Actions select Delete Permanently.
The process can take quite sometime if you have a lot of comments to delete.  Another way you can delete them is via PHPMyAdmin, simply login select the tables ending comments and commentmeta
Scroll down to the bottom, click "With Selected" and click "Empty"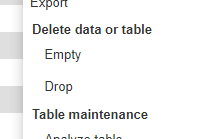 Check that the correct tables are selected and confirm.  All the comments will be deleted.
Now the site will be clear of any comments meaning less bloat in the site database and less harmful text for SEO and faster blog posts as the comments don't have to load.
Disabling and deleting comments is all part of our Ageny Support Plan.
It provides WordPress Professionals with support and maintenance for them,
their clients and their client sites