One click updates all your sites
If your sites are hosted on a Plesk Oynx powered server and your provider has provisioned the WordPress Toolkit you will be able to update your WordPress site with a few clicks of your mouse.
View the status of all your WordPress sites
With a couple of clicks of your mouse, once logged into the control panel you can see exactly how many updates are required to your WordPress installations.  Remember before updating any WordPress site always take a backup first.

Two more mouse clicks and you can update everything in one go, simply click 'Install All Now' then confirm: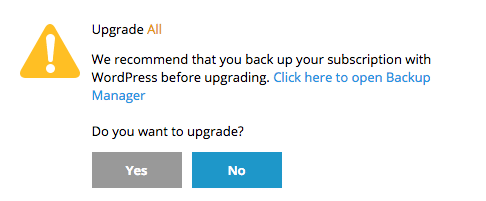 The system will now apply all the updates.  Once completed refresh the page and you will see that all the updates have been applied.
Note: that if you are using Plesk Oynx Multi Server you will need to select each of the servers once you click WordPress Tool kit.
Want more details?
It is possible to view a complete list of the plugins and themes that need to be installed.  Simply click the Plugin or Theme tab at the top and a complete list of Plugins and Themes will be listed:

You can scroll down the list, you will be able to see which plugin or theme needs to be upgraded.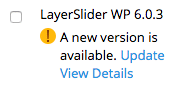 Clicking 'Update' will, well update the plugin, clicking 'View Details' will take you to the official WordPress plugin repository and show you the change log – if one is available.
A simpler way?
Find out more about how RocketWP can help you care for your WordPress sites.  From a single site, to servers with multiple sites we can take care of them all.  Simply click the button below, enter your contact details and we will contact you to arrange a chat.  Alternatively check out our WordPress Management Plans
Plesk WordPress Toolkit
The Plesk WP toolkit does not just control updates, it also helps you ensure the security of your WordPress sites, enables you to install, activate and deactivate plugins and themes, allows for 1-click cloning of sites too.  For a demo of all that the WordPress Toolkit can do contact us and we can show you how Plesk can save you time.